Check here for current news for the gym!
11/11/2015 - Achievers Gymnastics presents the 12 deals of Christmas!
Achievers Gymnastics presents the 12 deals of Christmas!
We will begin our deals on Thursday, December 3rd.
Deals will be e-mailed and posted on our web site each day through December 18th.

We will also post our daily deals at the gym!
Deal presented will be good for that day only.
Deal cannot be combined with any other offer or discount.

Enjoy the savings as our gift to you!!!!!!
11/30/2015 - New Tuition plan starting January 2016
10/13/2015 - Christmas gym or cheer equipment - Ready to order!
Holiday/Christmas Gymnastics & Cheer Equipment Ordering Information
Achievers has partnered with Resilite and you can now order quality home use gymnastics and cheer equipment for the Christmas Holiday.
The front office has all the information you need and you can also click on the links below to see the brochures and pricing.
Click here for Gymnastics equipment information - Brochure Front
Click here for Gymnastics equipment information - Brochure Back
Click here for Cheer equipment information - Brochure Front
Click here for Cheer equipment information - Brochure Back
Resilite will ship to our gym for free and you can pick up your order at your convenience.
If you don't see what you are looking for or have questions on the equipment you wish to order, please call the office at 940-484-4900 and we will do our best to answer your questions.
I can also help answer any questions you may have on home use gymnastics/cheer equipment. Just e-mail me at Frank.Kudlac@Achieversgymnastics.com and I will be happy to help you make the best choice for your needs.
Achievers – Helping kids Achieve!
10/19/2015 - Session 6 - Last Session of the year - Starts October 26th
SESSION 6 BEGINS OCTOBER 26TH
STATEMENTS HAVE BEEN E-MAILED. PAYMENT IS REQUESTED BEFORE
THE SESSION STARTS TO AVOID LATE FEES.
SECURE/KEEP YOUR CLASS SPOT FOR SESSION 5!
Check our website for more information
Open Gym - Every Friday night from 7-8:30
Parents night out - Saturday Nov 14th 6:30-10:30pm & Drop and Shop, Saturday December 12 - 1:30-10:30pm

We look forward to advancing your child's skills this session.
Achievers – Always helping kids Achieve
Celebrating 23 years of Excellence!
1992-2015
Voted Best of Denton 2012, 13, 14, & 15!
05/06/2015 - Have your child's birthday party at Achievers!

HAVE YOUR CHILD'S BIRTHDAY PARTY AT ACHIEVERS!
(click here for birthday party flyer)
BOOK NOW TO RESERVE YOUR SPECIAL DAY! call the gym 940-484-4900 or sign up on line using the Achievers Parent Portal!

Achievers Birthday Parties are a blast!
"THE BEST IN TOWN FOR THE PRICE!"
What is an Achievers Birthday party? It is 90 minutes of fun and good times!
Let us help you host your child's best birthday party yet! We take care of set up, clean up, and enterainment while you sit back and enjoy your child's special day. Achievers birthday parties are for both members and non-members. The parties last for 90 minutes and are held on Saturdays or Sundays. You spend the first 45 minutes in the gym having tons of fun and then 45 minutes upstairs in our birthday party room having your party.
Achievers provides 2 birthday party specialists for the first 20 children and we require 1 additional coach for each 10 children thereafter.
($7 + tax for each additional child). Achievers must be notified in the event there will be more than 20 children attending in order to obtain a 3rd coach for an additional $30.00 plus tip. (Failure to notify Achievers before the party of more than 20 will incure an additional failure to notify fee of $40.00 + tax (plus the $7 + tax per additional child). Each child who attends your party will recive a free balloon, cup, and open gym pass for kids older than 7 or an indoor park pass for kids 6 and under.
45 minutes in the gym doing a fun stretch out, parachute games,your choice of two incredible inflatable bounce structures,& lots of laughs! 45 minutes in our upstairs decorated party room.
Pricing:
Total cost: $245 plus tip
To the coaches: tips for coaches average between $5-$25
An additional $25 + tip is required for any coaches added for more than 20 children.
(Failure to notify fee of $40 + tax per 10 children for additional coaches, plus $7 + tax per child)
YOU CAN ALSO ORDER PIZZA AND HAVE IT DELIVERED TO YOUR PARTY!
15" Large 1 Topping Pizza $10.00 each (plus tax)

15" Large Specialty Pizza $12.00 each (plus tax)
Achievers accepts Checks, Cash, & Credit Cards (VISA/MC OR Discover).
We provide:
Qualified & Trained - Birthday Party Specialists.
We have FUN!
For the birthday child: "I had my birthday party at Achievers gymnastics" T-Shirt, Handprint on the Birthday Wall of Fame and a special birthday party medal!
Private party room, tables, tablecloths, chairs, balloons, open gym passes for all guests over 7 or indoor park passes for guests 6 and under, birthday cups, maps, invitations, and release forms.
(Each child must have a release form signed before playing in the gym)
Click here for non-member birthday party release form

You provide:
Your own drinks and refreshments (cake, etc), lighter/matches, knife server for cake, candles, plastic ware and paper plates.
Parents are not allowed on the equipment. No exceptions!
If you want to have a sleepover birthday party, we can accommodate those as well - just ask!
Additional Information:
· Parties are held on Saturday & Sundays at 1:30, 2:30, 3:30, 4:30, 5:30 & 6:30pm.
Call now (940) 484 - 4900 or sign up using the Achievers parent Portal to reserve your spot.
Children should wear comfortable play clothes or leotards.
No buttons, buckles, zippers, jewelry or watches. Shorts and t-shirts work great!

We also do sleepovers, field trips, girl and Boy Scout outings, etc…

Reserve your party today!
940-484-4900
Achievers......Teaching kids to Achieve!
Celebrating 23 years of excellence 1992-2015
08/28/2014 - Achievers Parent Portal! Create an account now.
Dear Parents,
Achievers is excited to announce the opening and launch of our Parent Portal!
Review & pay your bill, sign up and pay for special events, review your class enrollments, make requests for class transfers or add another class...all in one place! The Achievers parent portal is a live interactive site where you will also have the ability to update personal information about your family and children as necessary.
Current members - Go to Parent login
and click on FORGOT PASSWORD. Enter the email address you have on file at the gym and click on reset. You can then change your password. Please make note of the password assigned at that time as we will not have access to passwords. If necessary you can request a new password at anytime by logging in with your email address.
New members - follow the directions to create account -
you can then request a class from the class schedule.
You will receive an e-mail from us with more information after your class request.
Please take a moment to sign into the parent portal and accept our terms and conditions of use. You will then have access to your account, full account ledger and our complete schedule of classes, as well as see current student enrollments for your family. Please review the information and update your current email, phone numbers and mailing address for accuracy, as well as provide an updated emergency contact for our records.
01/07/2015 - Achievers Fitness Boot Camp - Nov/Dec 2015 - Reduced price!
Announcing....
Achievers Fitness Boot Camp!
GET IN SHAPE!
PERFECT FOR STAY AT HOME MOMS!

Lose weight, burn fat and tone that muscle!

Tuesday/Thursday/Friday mornings from 9-10
$100.00 per month or $10.00 per individual class
Indoor facility - rain or shine!
Space and matting galore!
Designed for all ages and levels of fitness!
FREE CHILD CARE AGES 3 AND UP!
(must be potty trained)
Contact Achievers at 940-484-4900 to register and for more
information
08/28/2014 - Open Gym Friday night fun every Friday night 7-8:30pm
Flippin Fun Friday Night Open Gym...... every Friday 7:00-8:30pm!
AGES 7-17
Have a super fun time at Achievers Gymnastics Open Gym. Climb on a beam, swing on the bars, jump on our trampolines, practice your cheerleading skills or just have fun in our inflatables!
It is a time for children to run and play or practice their gymnastics-cheer skills. Open gyms are supervised by safety certified instructors.

Fees: $9 + tax for members (per child), $11 + tax for non-members (per child), $6 + tax for team members

All children 7-17 are required to have a waiver signed by a parent before they can do any type of activity at the gym.

For your children's safety, they must be picked up and signed out by a parent or legal guardian by the end of Open Gym.

A late fee per child will be charged for late pick-ups.

No exceptions.
Click here for open gym non member release form

01/05/2014 - DISCOVERY PROGRAM
The Achievers discovery program is a Parent/Tot based program that allows Mom or Dad to help their little ones discover movements with music, games, and gymnastics.
Benefits:

Helps refine gross and fine motor skills
Develops coordination
Builds upper and lower body strength
Develop body control
Builds self confidence
Social Interaction
Helps to develop hand-eye and foot-eye coordination
Ages 4 months to 3 years
08/29/2014 - Hiring Coaches - we are growing!
HIRING...
GIRLS USAG COMPULSORY and OPTIONAL TEAM COACHES
BOYS AND GIRLS RECREATIONAL CLASS COACHES - GYM AN CHEER

POSITIONS TO BE FILLED A.S.A.P.
Full-Time or Part Time Positions – Depending on Qualifications
Contact us for more information: 940-484-4900
08/27/2014 - Referral Rewards - Earn $20.00 for every Referral
ACHIEVERS REFERRAL REWARDS!

$20.00 $20.00 $20.00 $20.00 $20.00 $20.00
We know one of our best forms of advertising is referrals from our current members.
TELL EVERYONE WITH KIDS WHAT A GREAT PLACE ACHIEVERS IS FOR THE BEST GYMNASTICS AND CHEERLEADING INSTRUCTION!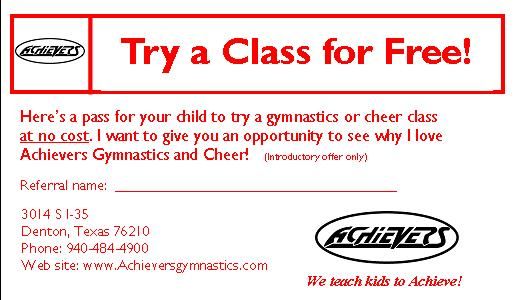 We Love Referrals!
Many of our customers have people ask where their kids take gymnastics and cheer.
So, as a courtesy, we have guest passes at the front desk to give to your friends when they ask.
When they sign up and pay for a full session we will give you a $20.00 credit (double the normal $10.00 referral fee) to use for a purchase in our gift/pro shop as our thanks to you for passing on the good word about Achievers.
Thank you for that!

IT'S THAT EASY!!!
08/28/2014 - Loyalty Cards REWARDS!
Get rewards for showing your loyalty at Achievers!
Attend or do 8 out of the 11 things listed and earn cash rewards!
Stop by the front desk for your card!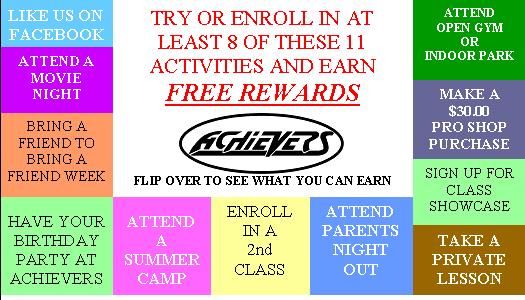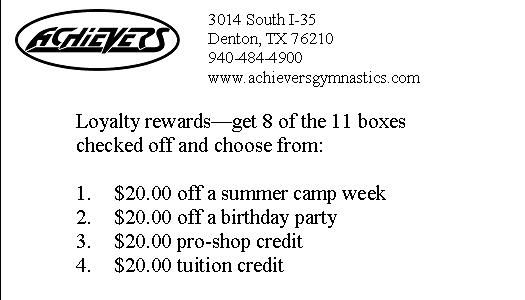 05/05/2015 - Best of Denton - Four years in a row!
08/29/2014 - As the Texas weather turns warmer/cooler????
As the weather turns (do we know in Texas???) warmer/cooler in Texas.......
Join us for loads of fun climbing, jumping, and trying out all the fun equipment! Plus, it's a great way to burn calories and energy! It's open to the public, so bring a friend! Limited space. Save Money - Ask About Our Achievers Indoor Park Punch Card!
Indoor Park is for pre-school and home school kids! It is their own version of Open Gym held Mondays and Fridays 10-11am. From trampolines, to the foam pit, to the climbing wall, and slide, it's sure to be a hit! Parents are to be with their child during this time.
Parents are not allowed on the equipment. Cost for Achievers Indoor Park is $9 per child or $44 for a punchcard (8 punches). That's $5.50 per visit!
01/05/2014 - Now Looking For Friendly Faces to Join Our Amazing Staff!
We are currently accepting applications for our Front Office and Experienced Rec Coaches
08/29/2014 - Home School Classes!